A Lottery Ticket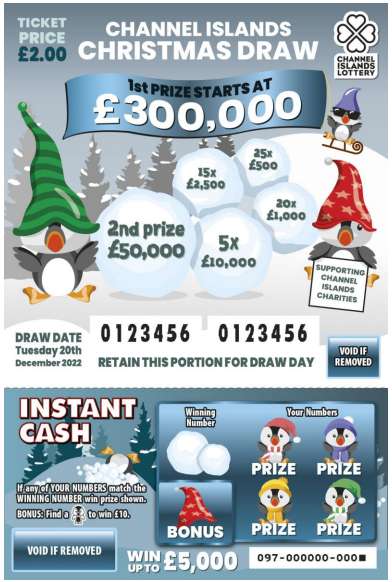 You've just bought your ticket in the Channel Islands Christmas Lottery. An investment of two pounds which, at the time of writing, could yield at least £300,000! And the person you bought it from assured you that it was the winning ticket!
Apart from the prospect of instant riches (albeit rather smaller ones) on the tear-off piece, imagine just how bright your Christmas will be if one of your two numbers comes up!
In the small print and clutched in the grasp of a puffin wearing a funny hat, is the phrase "Supporting Channel Island Charities" and this means that the profits of the Lottery to which your two pounds has just contributed will be distributed to good causes in both Islands. The Jersey profits generated by the CI Lottery are shared between the Association of Jersey Charities (AJC) and the Jersey Community Foundation so that both can use those funds to support local charities.
With the sum it receives from the Lottery, the Association of Jersey Charities makes grants to local registered charities. So far in 2022, £363,000 has been granted to 15 local charities (an average of circa £24,000 each).
With local charities still recovering from the impact of the pandemic on their fundraising, these sums have made a considerable difference to the recipients. For instance, the grant to JAYF of £30,000 covered staff costs as did similar sums to Les Amis and the Jersey Cheshire Home. A grant of £25,952 enabled the Jersey Employment Trust to buy equipment for their recycling operation and their plant nursery. For Centrepoint, their £30,000 grant funded The Space Holiday Club. Without these funds these charities would be struggling to maintain the services that are so vital to those they support.
All the AJC grants are awarded after a rigorous process of assessment and although it is probable that people buy Lottery tickets with the hope of winning (no doubt particularly true in the run-up to Christmas with the prospect that the top prize might even reach seven figures), that urge to win benefits hundreds of disadvantaged people in Jersey.