Variety - the Children's Charity of Jersey
Membership Number: AJC14 / Registered Charity Number: 181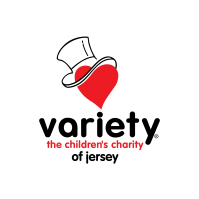 Variety - the Children's Charity of Jersey is dedicated to promoting and protecting the health and well-being of children in Jersey. Tent 52 offers financial assistance and support to disabled and disadvantaged children and other organisations in Jersey, to give a wider range of opportunities to the children in their care.

Through hard work, thoughtful stewardship and single-minded focus on the needs of the young, Variety strives to make a lasting difference by bringing hope and comfort to the lives of the less fortunate children and their families in our Island.

Make a Donation
If you would like to donate money to Variety - the Children's Charity of Jersey please select an amount below.
If you are a Jersey tax payer, and your donation is for £50 or more, you can claim an extra 25% for your chosen charity. Click here for instructions on how to do this.
All donations are anonymous and securely handled for The Association of Jersey Charities by Paypal. Please contact the administrator if you would like to inform the charity of your identity or if you have any additional questions.