Jersey Charity Awards 2019
September 2019
The fifth Jersey Charity Awards was held on Sunday afternoon, 22nd September, and was once again a huge success, it just gets better every year! The setting was again at Government House in a beautiful marquee, and was the perfect venue for the event. The Lieutenant Governor, Sir Stephen Dalton was amongst the invited guests. A sumptuous afternoon tea was served just before the ceremony and everyone was entertained by Jersey Academy of Music Saxophone Ensemble and later by Vocalize. Our compere for the day was Clare Burton, Channel TV News presenter.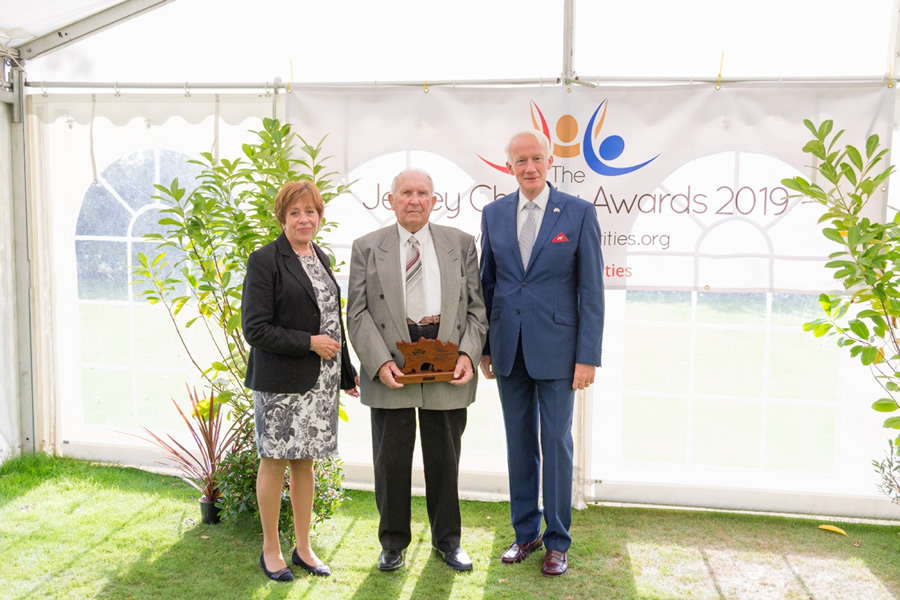 There are photographs of the event on the website gallery.
The Awards, supported by the Association of Jersey Charities (AJC) are to highlight local excellence within the charitable sector thus raising the profile of charity and voluntary activity in Jersey. There were three Awards categories; Outstanding Achievement in the small charity category, Outstanding Achievement in the medium charity category and Outstanding Achievement in the large charity category (based on the number of staff/volunteers and turnover).
All applicants had to submit a written entry describing their achievements over the past twelve months and the winning charities were narrowed down from a shortlist of five to a top three before an overall winner was selected. The Lieutenant Governor and the chairman of the AJC, Liz Le Poidevin, awarded each of the winners with a carved plaque and a prize for £5,000. Second placed received a prize for £1,000 and third placed received a prize for £500.
Healing Waves was announced as the winner of the small charity category, with Jersey Marine Conservation in second place and Wetwheels Jersey in third place.
Every Child Our Future (ECOG) was awarded the top place for the medium category, 7 Overseas (Jersey) Squadron taking second place and Jersey Recovery College as third runners up.
The large category award was given to Aspire Charitable Trust (BSK), with Autism Jersey taking second place and Durrell taking third place.
The overall winners were selected from the 23 entries by a panel of judges comprising Paul Routier MBE; local businessman Kevin Keen; Chairman of the AJC, Liz Le Poidevin with head judge Jane Galloway, Arclight Solutions Ltd Senior Consultant (Consultancy and Training services for charities).
An extra award has recently been introduced, for Outstanding Contribution to charity for an individual, and this is chosen not by the judges but by the event organising committee. This year it went to Hedley Hinault, pictured above.
Approximately 160 representatives from all the charities who made a submission attended, together with invited guests.
The Association of Jersey Charities provided the prize money, and the cost of putting on the event was again very kindly met by the trustees of The Ana Leaf Foundation. The Ana Leaf Foundation has supported these awards from the outset in 2011, and we are extremely grateful to them for this.
Also our grateful thanks go to:
Advertising International for design and print of all literature
Ana Leaf Foundation, sponsor of the event
Ryan O'Shea of Ryan O'Shea Photography, our official photographer
Clare Burton, ITV Channel News, our compere
Beresford Street Kitchen (BSK) for the catering
Jane Galloway, Judge
Jersey Employment Trust - Acorn Woodshack, for the wonderfully carved awards' trophies
Jersey Academy of Music Saxophone Ensemble & Vocalize for the fantastic entertainment
Kevin Keen, Judge
Liz Le Poidevin, Judge
Marquee Solutions for the beautiful marquee & furnishings
Ransoms Garden Centre for the table decorations
Paul Routier MBE, Judge
Sir Stephen Dalton, Lieutenant Governor and Lady Anne for the ceremony venue
Stage 2 Productions for the PA system