Living Hope
Membership Number: AJC420 / Registered Charity Number: 269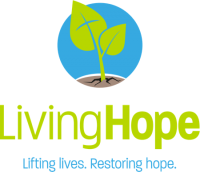 Living Hope exists to see lives changed, families restored and the community strengthened. The aim of Living Hope is to advise, assist and befriend local prisoners in HMP La Moye and then as they re-settle into the community, to help them live in freedom from their previous lifestyle and become contributing members of society. Living Hope believes that the greatest way to reduce crime and disorder in the Island is to help those who are involved in such behaviour change their lifestyle. Those with whom Living Hope support are often given little chance of developing a new lifestyle by society because of their past behaviour. Living Hope exists to give them that second chance, in a non-judgemental, future-focussed way without minimising the seriousness of their past.
Make a Donation
If you would like to donate money to Living Hope please select an amount below.
If you are a Jersey tax payer, and your donation is for £50 or more, you can claim an extra 25% for your chosen charity. Click here for instructions on how to do this.
All donations are anonymous and securely handled for The Association of Jersey Charities by Paypal. Please contact the administrator if you would like to inform the charity of your identity or if you have any additional questions.